Welcome to the World of Cowboy Dressage®.
From Cowboy Dressage World
"It is not the critic who counts; not the man who points out how the strong man stumbles, or where the doer of deeds could have done them better. The credit belongs to the man who is actually in the arena, whose face is marred by dust and sweat and blood; who strives valiantly; who errs, who comes short again and again, because there is no effort without error and shortcoming; but who does actually strive to do the deeds; who knows great enthusiasms, the great devotions; who spends himself in a worthy cause; who at the best knows in the end the triumph of high achievement, and who at the worst, if he fails, at least fails while daring greatly, so that his place shall never be with those cold and timid souls who neither know victory nor defeat."
Theodore Roosevelt
We have always felt that it takes courage to live your dreams. It is the goal of Cowboy Dressage World to help make your dreams a reality. Horsemanship is an arduous journey. A good relationship with a horse is an endless endeavor. There are highs and lows, frustration and joy, disappointment and achievement. Horses can stir all our deepest emotions. They heighten our senses and test our patience and knowledge. They can bring us peace and safe haven. Horses call to us and for many the call penetrates to the depth of our very being. Cowboy Dressage World wants you to experience it all. Open your heart and mind and let's saddle up and ride!
Eitan, Debbie, Garn and Lyn
---
---
Cowboy Dressage World Gathering and Finals 2016
One word describes it all, "EPIC"
To state this was an "epic" event would be an understatement. With the addition of Top Hand this was a landmark event for Cowboy Dressage World. There is so much to share and tell that it cannot be covered in a few paragraphs. With approximately 1000 rides with exhibitors from the UK, Australia and Canada and visitors from as far away as Poland the gathering was impressive.
We do not feel it is our place to tell this story so I will leave it in the hands of those that were there. Read and enjoy.
---
The dust has settled and the buckles have been distributed but it feels strange to be at the close of our Cowboy Dressage Gathering season so early in the year.  The new early date for The Cowboy Dressage finals was meant to make travel easier for some of the folks coming from the north and …
---
The Cowboy Dressage Handshake By Jenni Grimmett DVM The Cowboy Dressage community is unique in many ways.  When your guiding principle is kindness and soft feel you invite a certain class of people that are anxious to not only embrace that ideal but cultivate it in others they meet.  For me personally, embracing the ideals …
---
Shanna, our intern, took initiative to write these thoughts out…on our way home from CDW-Rancho Murieta. The Top Ten Things I Learned at Cowboy Dressage Worlds 2016 (not completely related to horses) I learned many things this year at Cowboy Dressage Worlds 2016, from how to critique a ride, to making the most of the …
---
I love the people here, and they make me laugh a lot. They are kind, funny, and always willing to help. They're open to sharing tips about what helped them and their horse in different situations. They are almost always optimistic and looking at how to improve their horsemanship, character, and relationships. As for the …
---
Top Hand competitors… I salute you! Besides the great horsemanship, I would like to share a few things that stood out for me. First, was the willingness and courage of many accomplished horsemen. The horseman that stepped out of their box (discipline of choice) to compete in Top Hand for their very first CD show. …
---
---
---
Did you know that Cowboy Dressage welcomes naturally gaited horses?
Among the people I've met through cyber space since launching NaturallyGaited.com is Dollie Horst who just returned from the 2015 Cowboy Dressage World Finals with her naturally gaited Rocky Mountain mare, Annie.  Read More »
---
My husband Dan and I were recently asked to describe Cowboy Dressage "in a nutshell".  I am sure the person inquiring was more interested in getting the short version from a pair of enthusiasts than he was in really hearing the answer but it made me realize that describing Cowboy Dressage in a few words …
---
This beautiful letter was posted on Cowboy Dressage® World of Scotland Facebook Page. It was so "right on" we wanted to share it with all of you. Thank you Brandon McAuslan for your heartfelt words…… Cowboy Dressage® World of Scotland I recently had the privilege of taking part in the first official Cowboy Dressage clinic held …
---
Blue Fountain Photography So a cowboy walks into a bar, takes a seat on a stool, and scans the drink choices before him. The bartender pays him no heed. After waiting patiently for a few minutes, the cowboy shifts in his seat, clears his dry throat, and tips his hat back. The bartender still doesn't …
---
By Jenni Grimmett DVM cowboydressage.blogspot.com/ If you weren't at the Murieta Equestrian Center, in Ranch Murieta, California last week for the Cowboy Dressage Final Gathering, I hope you at least took advantage of the live streaming, because history was made. Cowboy Dressage has been at the forefront of a revolution in equine competitions and equestrian …
---
With Richard Winters Horsemanship www.wintersranch.com As I write this article, I'm sitting at a horse show. Last night I rode with over thirty other riders in the preliminary round of the Top Hand Competition. I know that I have qualified as one of the top 10 riders. We are now waiting to see who will …
---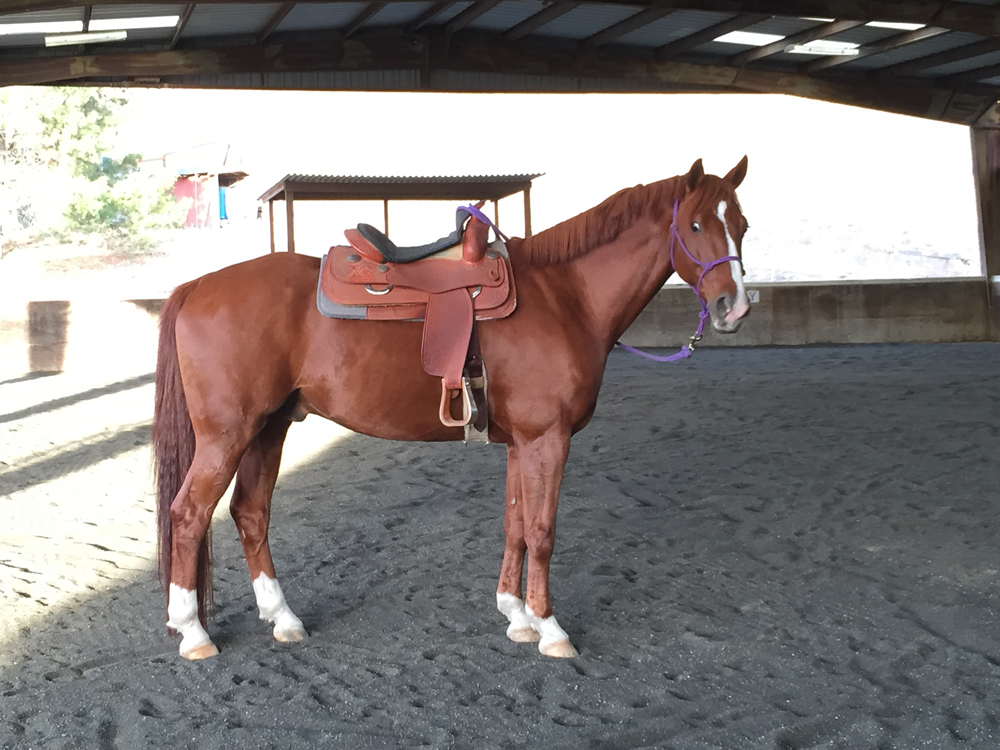 Three months ago, if you had told me that I'd be holding a pair of rope reins, throwing a western saddle around and practicing my slow jog, I'd have said you were crazy. I'm deeply attached to my custom Devoucoux and my comfy tall boots, I'm the kind of person who gets home from the …
---
In the past few years Cowboy Dressage has become part of our lives. It has become one more tool in our bag for helping our clients and horses gauge their progress and give them a very realistic set of goals. It is something every horse and every rider can do, something we should all at …
---
It takes years to develop a partnership with a horse and the hard work put forth by our Northwest riders shown through at the Cowboy Dressage 2015 Gathering & Finals. They were rewarded for their dedication to their horses and rightly so. Rebecca Wirth from Estacada, Oregon Linda Cody Winning ribbons sometimes is and sometimes …
---
I've enjoyed the comments and perspectives from my fellow competitors in Top Hand at the CD Finals. Besides the great horsemanship, I would like to share a few things that stood out for me. First, was the willingness and courage of many accomplished horsemen. The horseman that stepped out of their box (discipline of choice) …
---
---
Shared Wisdom
The words below resonate deeply with Cowboy Dressage and Cowboy Dressage World. Often those who came before us got it right. We couldn't have said it better than an "Old Cowboy's Advice."
An Old Cowboy's Advice
Keep your fences horse-high, pig-tight and bull-strong.
Keep skunks & bankers & lawyers at a distance.
Life is simpler when you plow around the stump.
A bumble bee is considerably faster than a John Deere tractor.
Words that soak into your ears are whispered…not yelled.
Meanness don't jes' happen overnight.
Forgive your enemies. It messes up their heads.
Don't corner something that would normally run from you.
It doesn't take a very big person to carry a grudge.
You cannot unsay a cruel word.
Every path has a few puddles.
When you wallow with pigs, expect to get dirty.
The best sermons are lived, not preached.
Most of the stuff people worry about is never gonna happen anyway.
Don't judge folks by their relatives.
Remember that silence is sometimes the best answer.
Don't interfere with somethin' that ain't botherin' you none.
Timing has a lot to do with the outcome of a rain dance.
Sometimes you get, & sometimes you get got.
Don't fix it if it ain't broke.
Always drink upstream from the herd.
Good judgment comes from experience, & a lot of that comes from bad judgment.
If you get to thinkin' you're a person of some influence, try orderin' somebody else's dog around.
Live simply. Love generously. Care deeply. Speak kindly.
~"Author Unknown"
As you plan your Cowboy Dressage journey there will be times this advice will come to mind. We hope it will help bring a smile to your face and a little laughter in your heart. Enjoy and Saddle Up.
Cowboy Dressage® is owned and trademarked by Debbie and Eitan Beth-Halachmy. It was founded in 1994 and is a separate business from Cowboy Dressage® World.  Cowboy Dressage® World, LLC is a business that manages the infrastructure of Cowboy Dressage® . They are the ones who as a group write the rules, tests and general criteria. They manage the judging school and horse shows. Their job is huge and daunting. This is tight knit group who are dedicated to each other and all who support Cowboy Dressage® Cowboy Dressage® World makes Cowboy Dressage® happen!

Photos by Lesley Deutsch Blue Fountain Photography
Additional Photos by Lee Folino
916-798-0271
Lee@InnerVisionImages.com
---
Thank you to our generous sponsors:
Buckle Sponsors
Audry Goldsmith
Cleo Holms/Sue Poltkin
Dale Rumens Partee – Western Sky  Horsemanship
Dee Myers
Doug West
Far West Cowboy Dressage
Halmark Farms
Jessica Mossbough
Jessy Vaughn
Joan Denton
Joan McLaren
Joanna Hender
Julie Chan – Charley Horse Ranch
Julie Lanocha
Kelly Baker
Kelly Rose  – Liberty Med Legal
Lesley Deutsch – Blue Fountain Farm
Linda & Ian Simpson
Megan Gallagher  – Grand Finale Stables
Mitch Hoover
Nancy & Wendell  Olson
Nichole Schoppe
Niki & Kim Wild  – Wild Oats Horsemanship
Julie Chan – Charley Horse Farm
Nonny Largent-Largent Quarter Horses
Patty & Kent McDonnell
Susan Dockter
Susan Eckles/Suzett Morettini
Tracie Audette – Hay Wise Feeders
Wyatt Paxton – Wy-Not Cowboy Dressage
Lynn McEnespy
Triton Vet Service
Northwest Saddle Pals
Leanne Shannon – Slide Creek Arena
Knife Sponsors
All Things Horse
Anne Judd
Jenni & Dan Grimmett – Lucky Duck Ranch
Dr. Karl Cloninger
Marlie Perry
Ron Smith
Savvy Acres / Marion Dahlgren
Sue Poe
Tera & Trevor Carter
Joanne T. E. Hilgenkamp
Carter Ranch Horse.com
Special  Award
High Point Mustang- Lisa Reif  and Elaine Rhodes
A Special Sponsorship in Loving Memory of Wasyl Malyj Ph.D, a dear friend of Cowboy Dressage
By Linda Hughes
Wasyl Malyj, Ph.D. initiated and led the development of genetic testing of horses and other animals at the UC Davis School of Veterinary Medicine. His work resulted in genetic testing for parentage verification in labs world wide. That changed the entire industry and established a new level of research to elucidate genetically based equine diseases and traits. His primary goal was always to utilize knowledge of the equine genome to help improve the health of future generations of horses, and to promote understanding by riders of their mounts. Initially Wasyl's work introducing genetic testing into the equine world was met with great skepticism and resistance from labs, including his own. All labs at the time utilized Serology (blood) based testing for parentage verification. Articles arguing that Wasyl was pushing an unnecessary and inferior approach were written, and law suits were threatened. Fortunately he was far ahead of others in the field both in terms of his knowledge of genetic research techniques and his understanding of advanced equipment. He was able to convince Dr. Fred Murphy, then Dean of the Veterinary School at UC Davis, that genetic testing was the way to go. As a result, Wasyl acquired the first genotyping machine on campus, a very expensive item. The testing was worked out, and thanks to the supportive stance of the Director of the Veterinary Genetics Lab, and the AQHA and its Board of Directors, genetic testing for parentage verification was implemented successfully with 99.9 percent reliability of results. The need for blood tests was replaced by simple pulling of mane or tail hair, and storage of generations of equine samples was greatly simplified. Soon all major labs were using the same technologies.
Thus began elucidation of the equine genome which was fully sequenced in 2007. The opportunity for new avenues of research into equine disease using DNA testing was achieved. Later Wasyl's interests led him to a faculty role in Health Informatics at the UC Davis School of Medicine. He remained very proud of his impact in generating the new field of Equine Genomics and continued an active interest. When he became familiar with Cowboy Dressage he realized he might help identify the learning moment between a horse and rider. From discussions with his wife, he thought that collecting real time data from non invasive physiological measures, especially Heart Rate Variability (HRV), would contribute to a clearer understanding by riders of "feel" in good horsemanship. Done well such feedback in conjunction with good instruction could significantly benefit horses and riders by facilitating better partnerships. At the time of his death in 2014, Wasyl was working on a device to collect such data reliably from humans and animals and analyze it in real time to provide immediate feedback. Recognizing the significance of such things as shifts in cardiac rhythms associated with the "ah ha" moment in learning is application for his work. It is potentially as applicable to horse and rider interactions as to teacher-student interactions, to name just a couple of possibilities for such measures. Wasyl was a lover of horses, dogs, cats and animals in general throughout his adult life. He was exposed to enough of the pros and cons of training animals that the possibility of improving the understanding and communication involved interested him tremendously.
Wasyl's primary research interest in human and animal medicine was focused on two areas: predicting the onset of a health problem before symptoms are obvious.: e.g. heart attacks, strokes, pneumonia, etc, and doing pattern recognition searches on huge databases of medical information to find matches that would inform both diagnostics and treatment. Approaches he and colleagues presented and promoted at national conferences are generating results seen frequently in the medical news of today. Wasyl knew that success with the work he and others were pursuing was rapidly approaching fruition. Someday soon some of his vision will be realized by others possessing the right combination of talent, interest and initiative.